ADVOCACY: SUPPORTING THE COMMUNITY TO HAVE YOUR VOICE HEARD.
What is Advocacy?
The City defines advocacy as a proactive, whole of community, strategic approach aiming to influence decisions within State and Federal political spheres and government agencies, in a way that recognises and prioritises the needs of our local community.
The City of Wanneroo has had a formal advocacy plan since 2015.
The City has two ways to support the community to become involved, these are:
Connect Wanneroo: Strategic Advocacy Campaigns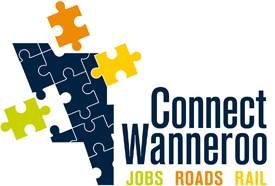 Through a range of community consultations priority issues of concern to residents across the City get identified. After further consultation with key stakeholders such as private sector groups, Government both Federal and State and community groups Council selects key issues that they expect to be responsive to a targeted advocacy plan.
Since 2015 these issues have been grouped under the headings of:
Roads
Rail
Reserves, and
Region
The City's Advocacy Plan ensures that advocacy for major infrastructure projects is coordinated, collaborative, effective and maximises the potential for these projects to attract Federal and State Government funding.
In 2016 the City launched its strategic advocacy brand Connect Wanneroo to provide a clear signal on matters of strategic importance to the City that require a concerted effort to get political and policy support as well as funding. For example the rail line to Yanchep and the continuing request to get the Mitchell Freeway extended north to Romeo Road.
The advocacy agenda is reviewed annually by Council and decisions are made to either continue the push on already identified projects or to add new ones as progress is made.
This agenda and campaign insights are available at the Connect Wanneroo website:
Currently we are running a social media campaign so the community can comment via Facebook and Twitter on the difference the Mitchell Freeway extension to Hester Ave has made and to support the continuing call for the extension to Romeo Road. Alkimos.
Advocacy Areas of Interest
This area makes sure that the community is kept informed on other matters that are not covered by a dedicated campaign but may arise either via the same consultation process or by registering concerns directly to Council.
HAVE YOUR SAY - CONTAINER DEPOSIT SCHEME
A Container Deposit Scheme (CDS) will be established in WA in 2019. The State Government's Department of Water and Environmental Regulation is seeking public feedback to maximise community benefit.
The scheme will offer a refund for bottles and cans returned to designated refund points across the State.
There are two ways to provide your feedback: via an anonymous online survey and/or a detailed written submission to the Department.
You can find out more information at www.dwer.wa.gov.au/cds and access the online survey at https://www.surveymonkey.com/r/KQJH8D8 until Monday 23 October
MOBILE PHONE COVERAGE
Another matter of concern to people is the variable mobile coverage across the City.
This was raised at a Council meeting in April 2017 and since then the City has been exploring with the Federal Ministry what options are available. Dr Anne Aly Federal MP for Cowan has picked up this matter as well and there will be a meeting in September 2017 with main service providers to explore options (contact her electorate office for details)
NBN ROLLOUT UPDATE
You will be aware that NBN is being rolled out across the City. To provide you with an update you can go to www.wanneroo.wa.gov.au/nbn to get more information.