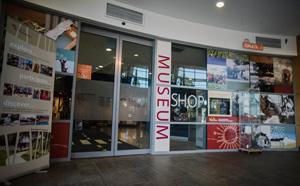 The Wanneroo Regional Museum gives a voice to communities that make up Wanneroo's history. Travel through time and explore a range of exhibits, audiovisuals and interactive displays. Our museum is a place for everyone.
Museum shop
The Wanneroo Museum Shop is a unique destination to find inspiring ideas to suit all ages and pockets.
From Jewellery, fashion, postcards, handmade soaps, vintage tea candles, children's toys and so much more, visit the Wanneroo Museum Shop to find beautiful handmade, funky and original pieces.
Live, Work, Play : Wanneroo Recollections Book.
Second and revised printing of this book which combines reminiscences from oral history interviews, a wealth of pictorial material and concise historical text to bring to life the rich and varied history of Wanneroo. Available in softcover at $30.

Visiting hours
General public
Monday, Tuesday, Wednesday & Friday 10:00am - 4:00pm
Thursday 10:00am - 5:00pm
Saturday 12:00pm - 4:00pm
Sunday closed
Saturday 26 March – Wanneroo Regional Museum - Closed
Sunday 27 March – Cockman House – Closed
Closed Easter weekend including Saturday
School groups
Tuesday, Thursday & Friday 9:15am - 2:00pm
Telephone
9405 5920
Location
Drop off area
There is a bus bay adjacent to the Dundebar Road entrance and two ACROD parking bays adjacent to the Rocca Way entrance.
Entry/access
Entry to the Wanneroo Library and Cultural Centre and museum is via self-opening doors. The building is fully wheelchair accessible for visitors.
Trained Guide or Assistance Dogs
Visitors accompanied by a Trained Guide or Assistance Dog or a dog undergoing such training are welcome to this site.
Toilets
There is one unisex accessible toilet located on the ground floor next to the museum entrance, and another on level two next to the library.
Audio loops
There are currently no hearing loops available in the museum. One program is taken in the theatrette which does have an audio loop.
Captioning
Video material in displays is not currently captioned
Audio guides
There are currently no audio guides available
For further information contact the museum on 9405 5920.
Education program
Years 3 to 5 - Wanneroo PI (Past Investigator) $5.00 per student
Discover the secrets of the local community and solve the mystery of what the Wanneroo region was really like in the olden days.
Topics include:
Reasons for early settlement (both indigenous and European)
Pioneers
Farming & market gardening
Communications
Leisure
The key role of Wanneroo Road
The program is divided into four parts, each designed to build knowledge, investigative skills, reporting skills and team work.
Years 1 to 4 - Nyoongar Boodja Wanneroo $5.00 per student
Students are guided through and engaging presentation which tells the history of the Mooro people, who travelled and lived around the region's lakes, which provided them with an abundance of food and social interaction.
Examine aboriginal hunting tools
Construct a Nyoongar season wheel to highlight the diet and nomadic lifestyle of the Mooro people
The importance and symbolism in Aboriginal art is examined and students will increase their understanding of the importance of oral history as they use the symbols to create oral stories of their own.
Anzac Day program $5.00 per student
This program was created in response by a local school student to have an Anzac Day experience. It examines many aspects of a soldier's experiences of war, and investigates how the community remembers the fallen, in all wars, but particularly World War I and II.
Booking information
Booking is essential. Please contact the education officers.
Ros Marshall
Phone: (08) 9405 5905
Email: rosslyn.marshall@wanneroo.wa.gov.au
Bryce Kershaw
Phone: (08) 9405 5906
Email: bryce.kershaw@wanneroo.wa.gov.au
A discount of $2 per student applies if two programs are booked on the same day
Programs are available Tuesday, Thursday & Friday from 9:00am to 3:00pm during school terms
Each program runs for 2 hours, including morning tea
6 adults per group as parent helpers
Maximum number of 35