Quinns Beach Long Term Coastal Management
Stage 3 Works (commencing October 2019)
Update - 25 June 2019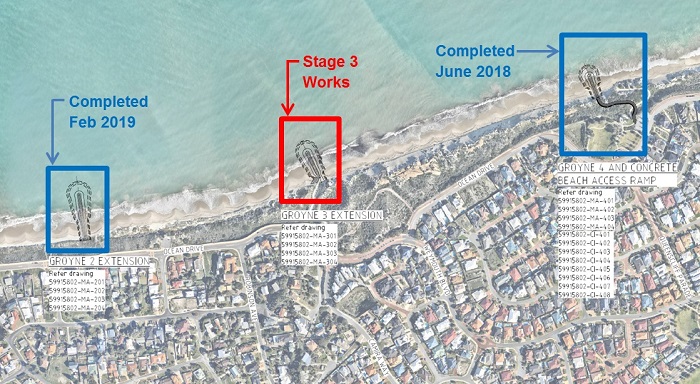 Following approval by Council at its Ordinary Meeting on 10 October 2017, the City of Wanneroo appointed WA Limestone Italia Stone Group Joint Venture to undertake the Quinns Beach Coastal Management Works over three years as follows:
Stage 1 (2017/18) – Groyne 4, Beach Access Ramp and Beach Re-nourishment;
Stage 2 (2018/19) – Extension of Groyne 2 and Beach Re-nourishment; and
Stage 3 (2019/20) – Extension of Groyne 3 and Beach Re-nourishment.
Stage 1 works were completed in June 2018 and Stage 2 works were completed in February 2019. These works have assisted in the management of erosion issues along Quinns Beach by trapping additional sand as it moves along the coastline and providing a wider beach and buffer against erosion events.
Stage 3 works will commence in October 2019 and includes upgrade and extension of Groyne 3 (located at the southern extent of the Quinns Dog Beach) and beach re-nourishment. Stage 3 is expected to be completed in January 2020 with the majority of major works completed prior to Christmas.
Note that temporary carpark, beach and path closures will apply between the Groyne 3 location and the carpark immediately north of Fred Stubbs Park. Signage and fencing will be in place to manage public access in these areas. For your safety, please avoid all construction works and equipment. Whilst it is inevitable that works of this nature will cause some inconvenience, every endeavour will be made to ensure that this is kept to a minimum.
Should you have any queries in relation to the Quinns Beach Coastal Management Project please contact the City's Specialist Coastal Engineer, Mr Rory Ellyard, on 9405 5883.