Coastal Monitoring
A long-term coastal monitoring program has been undertaken by the City of Wanneroo since 2014. The purpose of the program is to assess changes to the City's coastline and to document the condition of the City's coastal structures. This helps to better inform coastal management measures, identify key areas requiring future management, provide data for future coastal hazard studies and identify maintenance requirements.
Coastal Monitoring Report
Every six months a Coastal Monitoring Report is produced that outlines the methodology of the program and details any coastal changes that were observed over the last 12 months.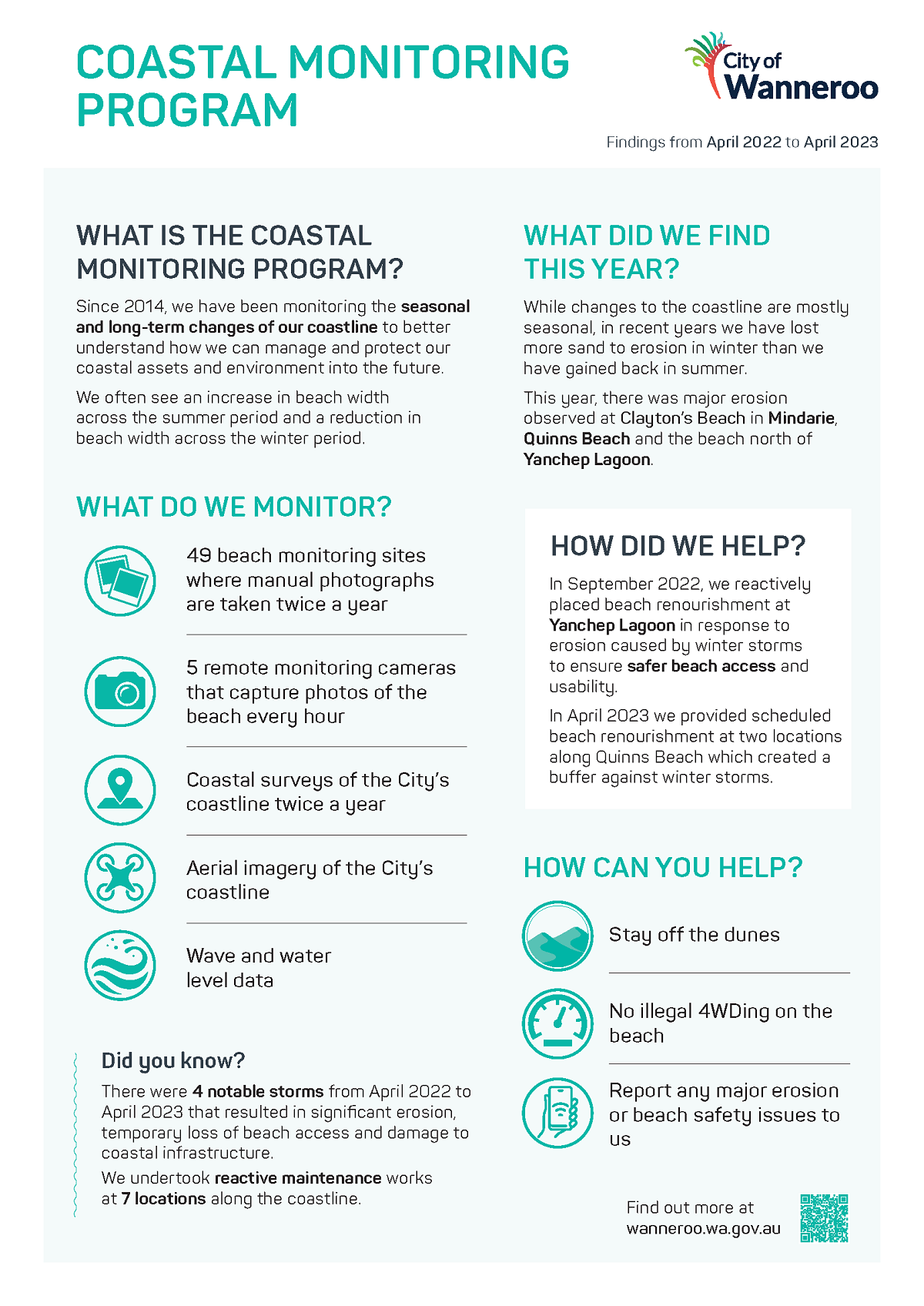 To download this summary, click below:
Coastal Monitoring Program Summary
If you would like to read the detailed report from April 2022, October 2022 and April 2023, they can be downloaded from the link below:
Monitoring of coastal structures every six months
Every six months the City undertakes photographic monitoring of the City's coastal infrastructure assets. This is used to capture a photographic record of the assets, identify and address any public safety and maintenance requirements and to flag any major concerns that may require further detailed investigation.
Manual images of vulnerable beach sites taken every six months
Photographic monitoring is undertaken every six months at 49 vulnerable beach sites along the City's coastline. This assists with understanding the seasonal and long-term changes in vulnerable areas of the coastline. An example of significant seasonal changes at Quinns Beach is provided below. Inspections of the City's vulnerable beaches are also undertaken following extreme storm events in order to capture a record of storm damage and address any immediate safety concerns or maintenance requirements.
Yanchep Beach - April 2021
Yanchep Beach - October 2021
Significant seasonal erosion is apparent over the 2021 winter period at Yanchep Beach. There is a wide, usable beach after the summer months (in April) and a very narrow beach following winter months (in October).
LiDAR aerial surveys
LiDAR surveys are undertaken in April and October each year by aerial survey contractor McMullen Nolan Group Pty Ltd. The survey covers the entire City of Wanneroo coastline and analysis is performed after each survey to assess annual and seasonal changes in beach volumes.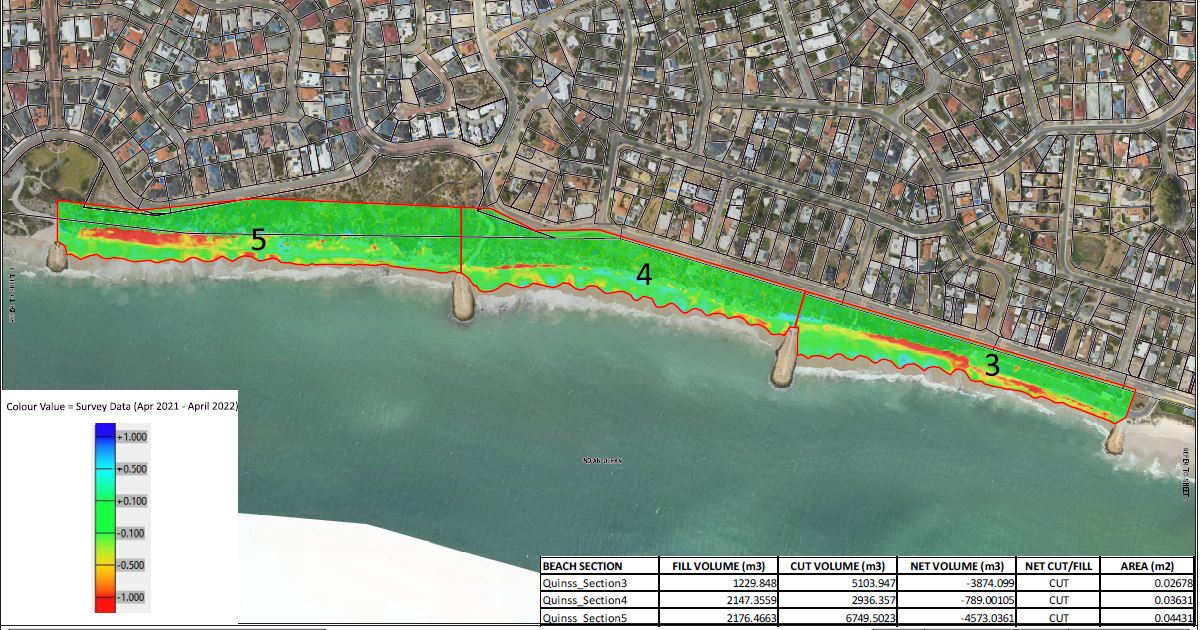 Elevation Difference Plot Results for Quinns between April 2022 and April 2021.
Remote coastal monitoring cameras
The City installed five remote coastal monitoring cameras at vulnerable sections of the Quinns Rocks and Yanchep coastline in November 2021. These remote coastal monitoring cameras capture still images of the coastline hourly at these locations. An example of the coastal monitoring images that are taken with the coastal monitoring cameras are presented below.
| Remote monitoring camera at Quinns Rocks | An example of a coastal monitoring image taken at Quinns Rocks, south of Groyne 4 |
| --- | --- |
| | |
The images that are gathered allow for the hourly assessment of coastline changes at these vulnerable locations. These images will be assessed visually and via a program that detects shoreline changes.
Aerial imagery
The City has recently incorporated the assessment of satellite and aerial imagery into the coastal monitoring program. Satellite and aerial imagery is taken every one to two months and covers the City's entire coastline. By assessing satellite and aerial imagery the City is able to analyse changes to the coastline more frequently than LiDAR surveys or manual imagery.
Metocean data
Metocean data including waves and water levels are also assessed as part of the coastal monitoring program. This data assists with the interpretation of changes identified in photographic records and analyses of survey data. Data is obtained from the following instrumentation managed by the Department of Transport (DoT):
Half-hourly wave data from the DoT Rottnest Island Wave Station; and
5-minute water level data from the DoT Fremantle Fishing Boat Harbour Tide Station.
Annual detailed condition assessment of the City's coastal protection structures
In October each year the City undertakes detailed condition assessments of the City's coastal protection structures. Condition assessments are undertaken to identify any structural damage caused by winter storm and erosion events. The following coastal protection structures are assessed:
Artificial rock headland at Quinns Beach;
Groynes 1 to 4 at Quinns Beach;
Rock and sandbag revetments at Quinns Beach;
Mindarie Breakwater and spur groyne; and
Capricorn groyne at Yanchep Beach.
Should you have any queries in relation to the City's Coastal Monitoring program please contact the City's Coastal Engineer, Sarah McCulloch, on 9405 5000.